In Akrotiri village it is loacted one of the most important prehistoric settlements of the Aegean. The first habitation at the site dates from the Late Neolithic times (at least the 4th millenium B.C.).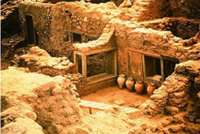 During the Early Bronze Age (3rd millenium B.C.), a sizeable settlement was founded and in the Middle and early Late Bronze Age (ca. 20th-17th centuries B.C.) it was extended and gradually developed into one of the main urban centres and ports of the Aegean.

The town's life came to an abrupt end in the last quarter of the 17th century B.C. when the inhabitants were obliged to abandon it as a result of severe earthquakes. The eruption followed. The volcanic materials covered the entire island and the town itself. These materials, however, have protected up to date the buildings and their contents, just like in Pompei.

Ιn 1967, Professor Marinatos decided to excavate at Akrotiri in the hope of verifying an old theory of his that the eruption of the Thera volcano was responsible for the collapse of the Minoan civilization. Since his death in 1974, the excavations have been continued under the direction of Professor Christos Doumas.
Manual Cars

Automatic Cars

Mini Van
Full Insurance
Wedding Vehicles